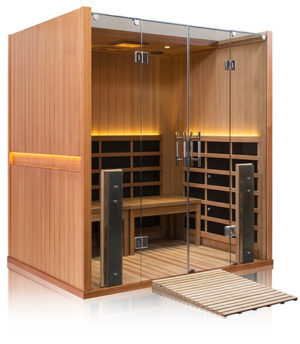 With its spacious layout, the Clearlight Sanctuary Retreat makes a great large commercial sauna that is also handicap accessible. This ADA-compliant sauna has two 35″ benches that can be easily removed to allow wheelchair access. The Retreat includes a 1:12 ADA-Compliant wood ramp, ADA-Compliant vertical steel door handles, controls placed at mid-level for seated access and 80″ interior height.
With contemporary design and groundbreaking innovation, the Clearlight Sanctuary® Saunas are unlike any other. They are the only true Full Spectrum infrared saunas available offering advanced near, mid and far infrared technologies. Our robust True Wave Full Spectrum heating system provides all wavelengths 100% of the time to optimize your sauna session. The state of the art digital sauna control works in concert with our sleek tablet/smartphone app to gives you the ability to control your sauna remotely.
Our True Wave™ Full Spectrum heater system delivers over 25 times the power of our nearest leading competitor. We offer a full 500 watts per full spectrum emitter versus their 10 watt near infrared emitter. Our full spectrum system allows for the deepest penetration, peak performance with the best results.