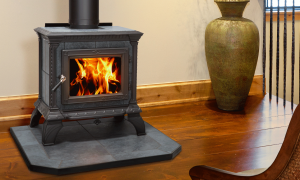 The Tribute is designed to satisfy the customer who loves the style of our Heritage woodstove but doesn't need as much heat. For taking the chill off
your large room, or smaller home, the Tribute does it with style and efficiency.
When fully loaded, the Tribute will burn for up to 5 hours. The Tribute has a 1.2 cubic foot firebox and is rated at 36,000 BTUs. Using the full 1¼" thick soapstone, it has a HeatLife™ rating of 7 hours. In addition, the Tribute warms your home with minimal fire tending required.
"Great job on install. The stove is perfect! We're warm and comfy."
Ron D., Dimondale, MI
"Great wood stove. Great service."
Gene K., East Lansing, MI
"Stove looks like it has always been there!"
Kathleen K., Stockbridge, MI
"Thank you! Love our stove."
Diane & Paul T., Lansing, MI